Join Us At Our Second Amendment Celebration Dinner at the Hotel Del Coronado!
BUY TICKETS!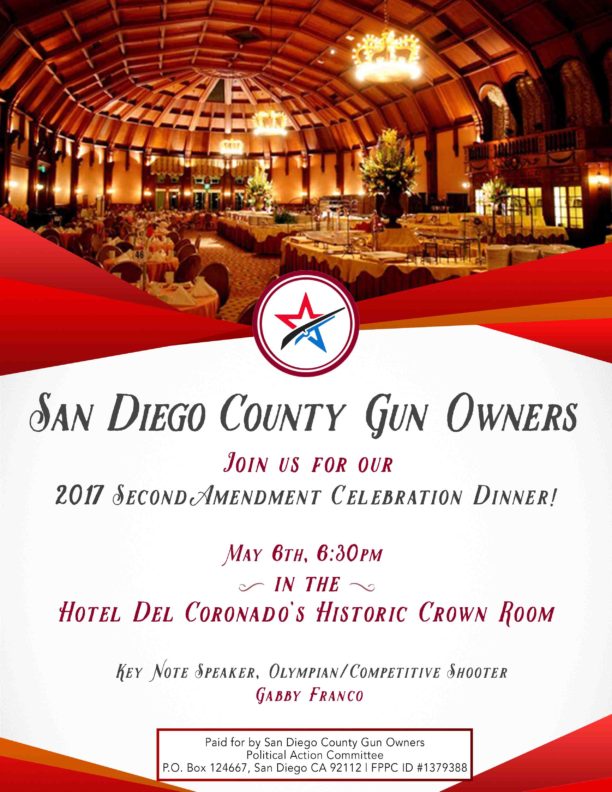 You can now buy individual tickets to sit at one of the many The Shooters Hangout tables!
Join us on Saturday, May 6th in the Crown Room at the Hotel Del Coronado for our second annual Second Amendment Celebration Dinner!
Prizes, auction items, and tons of fun to be had by all!
Our keynote speaker is author, Olympic shooter, and Top Shot champion Gabby Franco! We are proud and honored to have her.
This is the premiere Second Amendment event at a San Diego landmark. Join us for a night of fun and celebration.
Our FAQ page has details like menu, room discounts, parking, and dress code along with everything you need to know about out once a year event!
Clik here: http://sandiegocountygunowners.com/dinner/
Second Amendment Celebration Dinner
Individual Tickets Available! $150 per ticket
Hotel Del Coronado, here we come!
Buy your tickets before we sell out! Seating is limited for this fun and exciting event. Individual tickets are now available!
To purchase an individual ticket, follow these simple steps:
1. Click link to make a "one-time donation" of $150 per ticket: DONATE
2. Email Wendy@SDCGO.org to let us know:
– You purchased a ticket
– The name of each guest
– The dinner selection(s)
– The particular table you'd like to join (The Shooters Hangout).
Example: "Wendy, I just made a donation of $300 for two tickets. The tickets are for Jane and Jack Smith. We'd like to sit at The Shooters Hangout table and we'd like one chicken dinner and one salmon dinner."
3. Come to the dinner and have a GREAT time!
Remember that NO CASH can be taken at this event. Checks or credit card only.
Dinner in the historic Hotel Del Coronado.
Oh yeah!
Saturday May 6th. 6:30pm
http://www.sandiegocountygunowners.com
There are some very exciting developments regarding finally getting CCW permits issued in San Diego County, and SDCGO is spearheading the efforts!
Simply amazing news!!!
Most of you joined us last year for our 2nd Amendment fundraising dinner, so you know that we throw a fundraising dinner unlike anything you've ever attended!
This is NOT your typical boring banquet dinner!!!
Last year the dinner was on the USS Midway and we completely sold out all 400 seats.
I am proud to say that I am a Board Member of the "San Diego County Gun Owners Political Action Committee". We are one of the 5 most powerful political organizations in San Diego County.
This annual dinner is our biggest fundraiser to fund our organization. This is our bread & butter.
The cost is $150/seat.
You ABSOLUTELY can not complain about 10 round magazines, limited handgun roster, AR15 bullet buttons, lack of concealed weapons permits if you are not in the fight!
This is the easiest way for you to get in the fight. We will do the heavy lifting, we just need your financial help by attending this dinner.
This event is coming up very fast!
Respond right away to get a seat at one of the 6-8 tables that The Shooters Hangout is hosting.
So sound off if you are willing to fight for your California gun rights by joining us for this special night!
Alpha,
Lance Reeter
Lance@TheShootersHangout.com
-feel free to share this email with your shooting buddies, family, and friends.