Only 7 months until the 5th Annual Charity Handgun/Rifle Course for leukemia.
Put in your vacation time request now!
March 23rd, 2018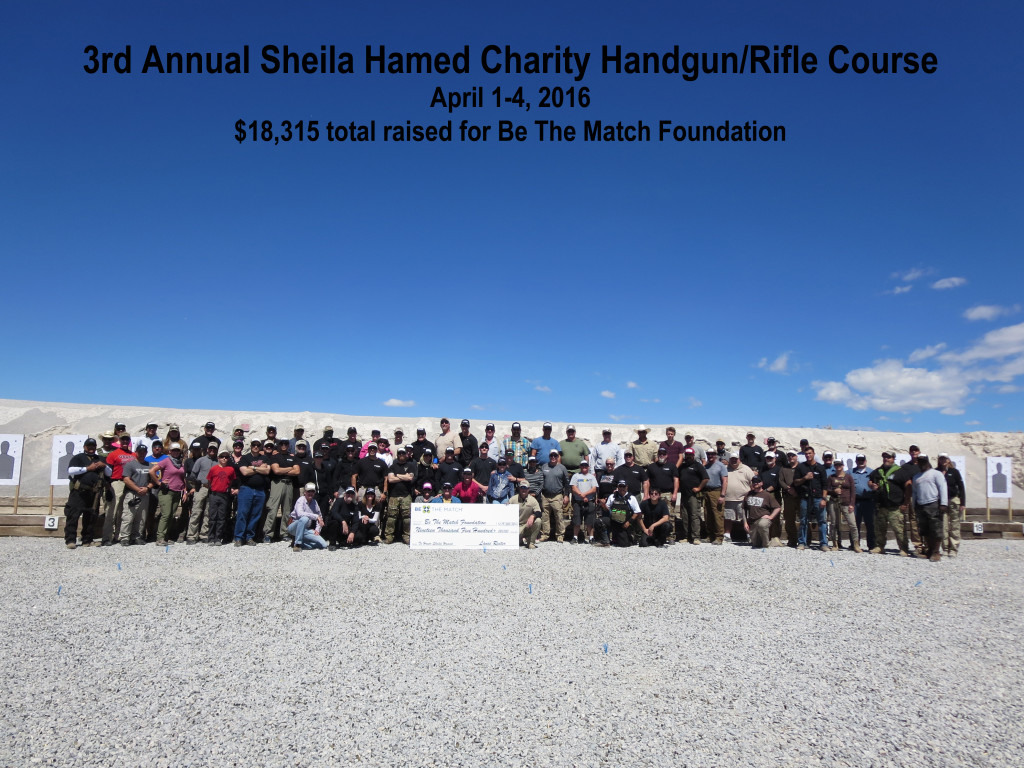 Below is a short highlight video from last year's charity event!
https://www.youtube.com/watch?v=BxpMo6dTV-s&feature=youtu.be
This event just gets bigger and bigger each year, and this next year is going to be EPIC!!!
We are going to be raffling off a HUGE number of firearms this year. Last year I think we sent home 7 brand new handguns, 2 Remington tactical shotguns and a beautiful Savage precision 6.5 creedmoor rifle, next year we may double that!
We will also be raffling off 8,000 rounds of ammo!
Every gun owner "thinks" they know how to shoot! But very few actually do.
Just because you can take your gun to the range, take it out of the box, load it, put holes in the target, unload it and take it home without shooting yourself DOES NOT mean you know how to shoot.
It is the equivalent of going to the golf driving range and hitting 50 balls off a tee on a piece of artificial grass and then claiming you know how to play golf. In reality you are definitely not capable of then playing 18 holes of golf using various drivers, wedges, putters, playing the fairway, the rough, reading the greens, the sand and water traps, scoring, etc.
If you want to "actually" learn how to play golf then you sign up for a 2-4 day golf clinic with professional instructors. Learning to shoot is no different. There is so much more to shooting than just putting holes in paper.
I invite all of you to join us for our 4th Annual Charity Handgun Course to raise money for leukemia/lymphoma and to truly learn how to shoot. Last year we raised over $18,000 dollars for those that are fighting for their lives.
This is a family event.
You don't even need to own a handgun, all the gear is available for rent.
You will learn to:
– fire a controlled pair into the thoracic cavity from a concealed holster in 1.7 seconds.
– fire a designated head shot into a 3″x4″ kill zone from a concealed holster in 1.9 seconds.
– fire hostage rescue shots.
– you will learn tactical reloads and emergency reloads, and learn the difference.
– you will learn to clear a type 1, type 2, type 3 malfunctions, and get back into the fight.
– you will learn how to breach doors and clear rooms, so you can safely clear your home.
– you will learn the legal, moral, and ethical ramifications of using lethal force.
– color code of mental awareness.
The cost of the course is just $200. Plus a $50 donation to fight leukemia/lymphoma for a total of $250. There is no course fee if you have a membership at Front Sight.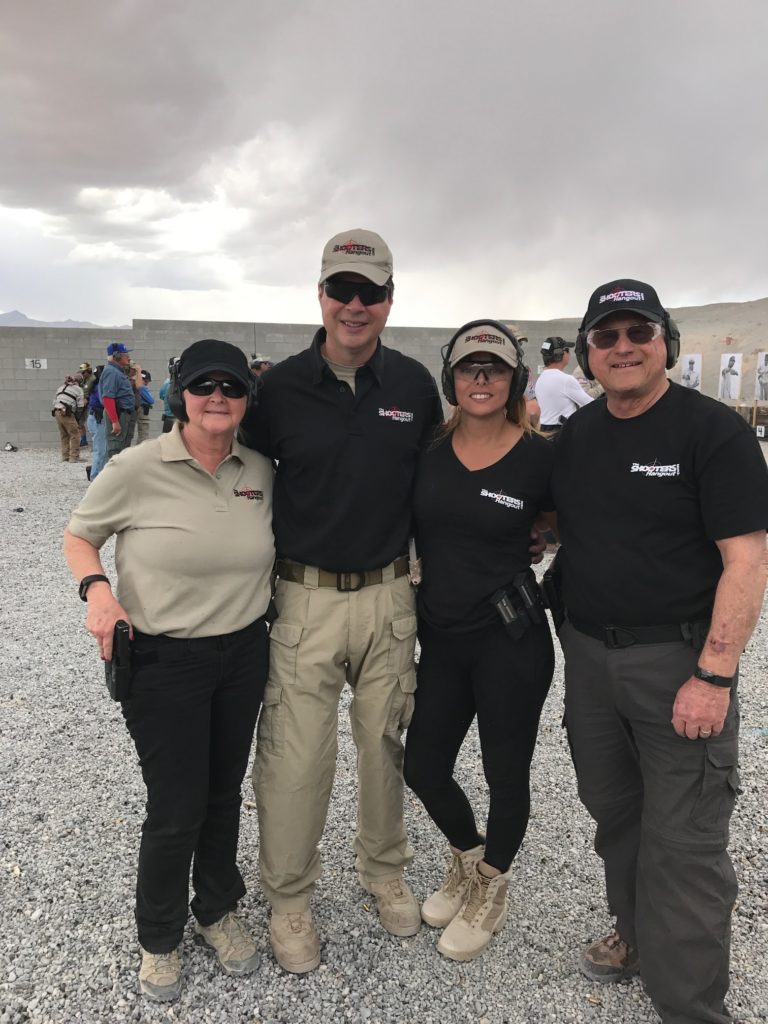 Here is the Facebook event page: https://www.facebook.com/events/182507135529508/
You can join us for 2 days, 3 days, or the full 4 days.
You can take the handgun course or the semi auto rifle course.
Below are some public online photo albums from the 2016 event.
Enjoy the pics!
Day 1
https://www.facebook.com/media/set/?set=a.10206636044363346.1073741851.1339742965&type=1&l=1c7bab181d
Day 2
https://www.facebook.com/media/set/?set=a.10206642404802353.1073741852.1339742965&type=1&l=86c817746b
Day 3
https://www.facebook.com/media/set/?set=a.10206657523500311.1073741853.1339742965&type=1&l=b79863ea11
Day 4
https://www.facebook.com/media/set/?set=a.10206663927780414.1073741854.1339742965&type=1&l=a727eb8b00
What did the participants have to say about this year's charity course?
Butch Becker- I had a great time…and it was cool doing rifle with all the guys I met last year! Solid group, and stoked on my new group of bros. it's like I have known all you guys for years. Thanks again Lance!!!
Lisa Rath- What an experience! Anyone looking for an experience "outside the box" should give this a go! The kids and I learned so much. We are definitely hooked! Great people supporting a great cause!
Colin Drew- Great people! Great training!
Scott Gardner-Amazing facility, top notch all the way. The instructors were friendly and helpful. Great group of guys in the class. Rifle was my first course , definitely won't be my last.
Jill Harte- Thank you Lance for another wonderful event. All of your hard work was shining through all weekend!
Scott Hasson-Excellent event…well put together and a great group of people all working for a great cause…next year is on!
Evan Williams- This charity event is so much fun. Knowing its for a great cause makes it even better! Being able to participate in this event with people I call my friends makes it the best.
Joel Pirmann- The highest compliment I could give Front Sight is not what I've gotten from being there, but who I've become because of their training. I apply the principles and discipline learned there to my practice as a doctor and to my life.
Robyn Rice-Well said Joel. I always come home energized and focused, even though physically tired. This was my 4th time and I will definitely continue training at Front Sight. Strong work as always, Lance Reeter!
Devon Jane- Best-Week-Ever!
"Sometimes you find yourself in the middle of nowhere and sometimes in the middle of nowhere you find yourself." Best charity course- fantastic views- incredible training- important cause- fun people- and so much camaraderie! Because of this course I am extremely comfortable using a handgun.
Condren Hampton- Best four days with the best people!-the training exceptional and going home confident and inspired-I love to see the friends I have made and also making new ones-Thank you Lance for all your hard work to make this charity event so great!
Alan Bunge- My 3rd charity event, wont be my last. My daughter and her husband attended and had a blast, she is absolutely addicted and is already planing her next trip back, so proud of her.. not enough can be said about how much work and behind the scene's effort Lance Reeter (alpha) puts into these events, keeps getting better each year! Many thanks to all the staff, line coaches and range masters for there dedication to making Front Sight so successful in training tens of thousands of patriots, who make America great, and creates family bonding…See you all next year.
Mikey Ibarra- Awesome time as always, met new friends and shared great stories.
Jim Miller- Jr Great event. Well run. The training was first class and the ability to come together for charity made the event all the more important. I look forward to next year's charity course!
Bill Flores- We had a great time. Posted this photo of the first time I met Sheila. As always the training and staff are professional. Took three cousins and they were impressed with how much they learned. Lance, you put on a great event for a worthy cause and Sheila. Love you brother!
Lance Reid- Had a great time learning from the best. So many lessons learned in a short period of time. Loved to see 800 armed people getting along so well. Lance, you have a gift for organizing these event as its no easy task. I'm looking forward to getting the whole family and more friends involved next year.
Warren Manfredi- Great times, great training, and a great event. It gets better every year, I can't wait til the next one Stephanie and I had a really good time this weekend. Wee both enjoyed the event, the dinners, and hanging out with everyone, thank you very much; well done sir!
Scott Morgan- I had an amazing time with good friends! Can't wait for next year's event!
Todd Gilje- For my first time at Front Sight, I had a great time with old and new friends. I will be there for next years event and probably earlier for a handgun tuneup class. Great thanks to Lance for organizing this event for such a good cause.
Esther Hoffman- What an amazing, surprising time I had on my first time there! I learned so much and want to thank the range masters and coaches who helped me..a total Beginner!..
Tatiana Penners- I met so many great people. The training was outstanding like always. There aren't enough good words that can describe the amazing experience. Thank you sooo much for all you do and did for us. I am looking forward to doing this again next year! Btw, I am loving my The Shooters Hangout swag!
Ron Spagnola- Best four days of firearms training ever!
Joseph Spencer-I was wrong about the Charity Shoot Lance Reeter put together at Front Sight's facility in Pahrump. It soooo exceeded every expectation, up to and including the raffles. Yep, I won a new custom built rifle from The guys at Gunfighter Tactical. The training was excellent, and it was a raging social success. The shooters are now legend in 3-counties. I could go on, and will, but I'm assembling a list of invitees for next year right now!
Jill Harte- Thanks Lance for everything. Having so much fun & fighting a wonderful cause all at the same time. We are truly learning to fight leukemia. Beautiful charity event…nice job as always!
Emily Maruer- (11 years old) I know we have been saying this a lot but thanks so so so so so much for EVERYTHING you did for us this weekend. You put a smile on all of our faces as we left the range. I miss having a gun on my hip! I miss you and Chad, I just can't wait till next year!
Mike Stephenson- Just wanted to tell you how much fun Eric and I had at Front Sight again this year! We dramatically improved our skills and had a GREAT time doing it! I missed DG by only 9 points using iron sights. FYI…Eric, myself and Warren's girlfriend were the only ones not using optics out there. We've got great optics btw and chose not to use them! Already looking forward to next year and I plan on recruiting some of my friends to join us. Thanks again for another well organized event, you do a great job!
Jennifer Burns Pirmann- My 72 year old mother did the 4 day course! She is wiser about gun safety and now I feel she can protect herself! Had fun seeing all of our Front Sight Family.
Scott Rice- Yes thank you Lance for all the hard work YEAR ROUND to get this gaggle together! Lets get together more often….
Lisa Rath- What a great time! So many wonderful people!
Jim Miller Jr-Fantastic event on all fronts. I hope to bring even more of my friends to support the effort next year.
Esther Hoffman- Lance…can't believe how great this event was and how much I learned! Thanks so much!
Frank Johnson- Had an awesome time and met new friends and fostered old friends. This is an awesome event and I look forward to next years. Already planning with others to increase our participation for such a worthy cause, a cure for cancer!!!!
Steve Polen- Nice work can't wait for next year.
Scott Hasson- Fabulous event!
Michael Stephenson- Great job this year!! Next year will be even bigger!
Lisa Rath- You really know how to host an event! We look forward to supporting you in this great cause next year! Thanks again for the experience! As Emily said, 'Best week ever!'
Robyn Rice- So proud to be part of this ultra-worthy cause! Thank you Lance Reeter!
Joseph Spence- Can't say enough about how great it was!
The participants this year included an 11 y/o girl, a 12 y/o boy, a 72 y/o and a 73 y/o grandmother, 6-7 law enforcement officers, one Navy SEAL, and everything in between! Training for all skill levels, beginners through advanced at a world class facility!
________________________________________________________________________
Also:
New York Times reports exhaustive survey:
1 in 5 women will be sexually assaulted.
1 in 4 women will be beaten.
1 in 6 women will be stalked.
Is it now clear? Get a gun and learn how to use it! Don't be a victim!
Men, do the same. Get a gun and learn how to use it! Protect your ladies!
http://www.nytimes.com/2011/12/15/health/nearly-1-in-5-women-in-us-survey-report-sexual-assault.html?_r=1
6 Reasons Every Woman Should Own a Gun.
http://gearpatriot.com/6-reasons-every-woman-should-own-a-gun/
This past year we raised a total of $27,600.
There are not enough people in the national bone marrow registry to match everyone who is suffering from lymphoma, leukemia, and other blood cancers.
This charity event will support and grow the bone marrow registry, fund research, and "literally" save lives!
So if you would like to make a difference in this world, if you would like to help us save lives.
If you would like to step out of your comfort zone.
If you would like to add some adventure to your life that you will be talking about for the rest of the year!
Then I invite you to join us for this very worthy charity event!
This course is held at Front Sight Firearms Training Institute in Nevada, about 40 minutes from Las Vegas. Most of us stay in hotels in Pahrump, NV which is about 12 miles from the training facility. Of course you can stay in Las Vegas if you want. This is a world class firearms training facility that is "family" oriented and not a bootcamp type training. There will be over 600 students training with us that weekend and 45% of them will be ladies and teenage girls and boys. Grammas and Grampas too. Family training!
This will be a 4 day handgun or rifle course. Or just a 2 day course if you choose, or 3 days..
The cost of the course is just $200. ($2,000 value) plus a $50 donation to fight leukemia/lymphoma for a total of $250. There is no course fee if you have a membership at Front Sight.
It is a fun way to support a very, very worthy cause!
It's kind of like a charity golf tournament, except it is a world class handgun course!
Please join us and support this great cause.
For more information go to www.CharityCourse.gives
______________________________________________________________________________
Don't have a gun and gear? No problem, the Pro Shop at Front Sight rents everything you need.
Be sure to share this article with all your family, friends, and co-workers that might like to hear about this annual charity event!
Lance Reeter
Lance@charitycourse.gives